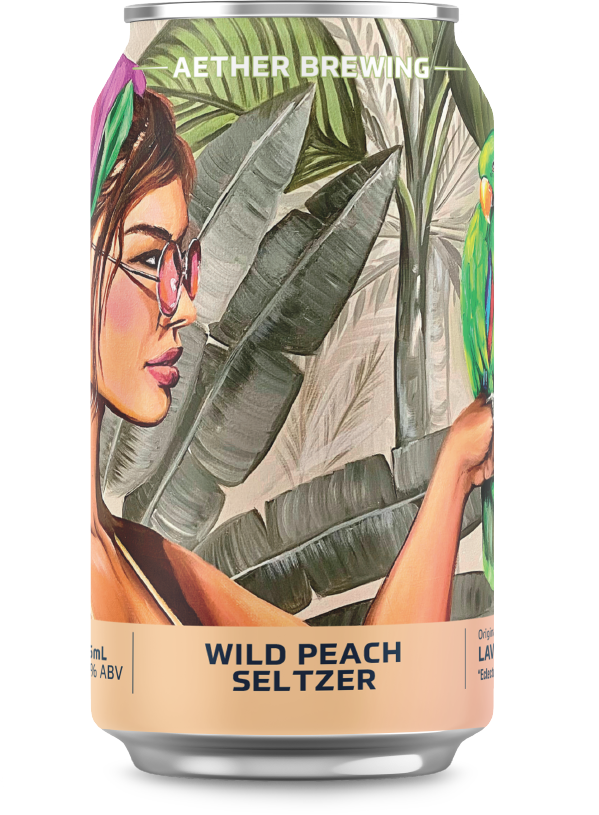 AETHER's WILD PEACH SELTZER is a light, spritzy and refreshing hard seltzer brewed traditionally using White Peach and native Quandong. This beauty pours clear with a tint of yellowy-orange and has a delicate sweet fragrance and notes of fresh peach jam and hints of citrus. Its all natural, vegan, gluten-free, low sugar, preservative and additive free.
ABV: 3.5%
IBU: 10
Hops: Warrior
Vegan friendly & all natural – free of preservatives and additives.
Lavinia is a full time North Queensland artist renowned for creating vivacious canvas works as well as unique and colourful large scale street art murals. Her artworks are vibrant, full of life and showcase the unique wonders that surround the tropics of North Queensland. From ancient tropical rainforests, to palm fringed beaches, to the absolutely stunning wildlife that call North Queensland home, Lavinia has an endless supply of inspiration.
Your New Favourite Beer + Artist.
We pride ourselves on making damn tasty beers. Delicious beer deserves beautiful imagery. Artists who make beautiful imagery deserve appreciation. Introducing Aether's new-look core range of craft beer, ginger beer + seltzers. Find your new favourite beer + artist below.